With an Eye on the Prize : Dr. Miller celebrates 20 years of Mooresville Family EyeCare
By Elaine Whitesides, Originally Printed in Morgan County Business Leader  
It was 20 years ago, in November 1998, that Michael Miller came to live in Mooresville. He had graduated from the Indiana University School of Optometry in 1991. After several years with the Indiana Eye Clinic in Greenwood, he had decided he wanted a private practice of his own. He began the search for an optometrist who was ready to retire or sell his practice. He learned about Dr. Bill Kirby in Mooresville. Dr. Kirby had about four decades serving the Mooresville community.
Looking at the beginning
Miller grew up in a small town in northern Indiana called Plymouth. His mother had developed early onset macular degeneration and had been legally blind since the age of 28. He understood the challenges visually impaired persons faced on a daily basis. Driving, in particular, was an issue. She needed special permits and could only drive under certain restrictions. Living out in the country made it a more of a hardship. When Miller and his sister earned their driver's licenses, it was easier for the family.
The personal understanding of the importance of eyesight, along with his interest in science and mathematics, led him to the medical field, particularly relating to the study of sight and sight correction. He was not interested in medical school or actually performing surgery on eyes. With that in mind, and because all of his family, including himself, wore glasses or contacts, his thoughts turned to optometry. "We developed a really good relationship with the family eye doctor," Miller said. "He was very encouraging and supportive of me going into optometry."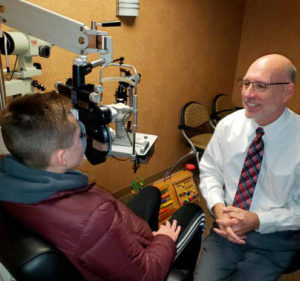 Given that initial boost, Miller says that a series of little coincidences was proof that God was opening doors to make the process easy for him. The first was that his aptitude for the coursework and exams at IU School of Optometry was very good. He liked the work and it seemed natural to him. Comfortable enough that he was able to complete the coursework required in three years instead of the usual four years.
Looking forward to a private practice
Neither of Miller's parents were small business owners. His father was a meat cutter. Miller said, "I always wondered why he couldn't work for himself." As Miller developed his skills and expertise, he considered business ownership and thought, "If others can, why can't I?"
Right after graduation Miller went to work in an ophthalmology practice to gain skills. He cared for patients with eye emergencies and co-managed the care of patients after surgeries, including refractive surgery patients. Knowing he wanted a practice on his own, he also made an effort to learn about the business side, especially how to work with staff.
His family history prompted him to envision a private practice where he says he could interact with families and individuals. He wanted to serve people of all ages; from children to their grandparents. "The business side of having a practice was also a draw," Miller said. "It was the independence of doing what I wanted to do instead of working under somebody. I can see patients and make my own decisions."
The idea of being your own boss drives many small business owners, but in Miller's optometry practice, he has since learned that the business decisions are not limited to hours of operation, hiring, and business development. He saw that it also gave him the freedom to make other decisions, too. "I could decide how we can give back to the community in the business; how we can help others financially and work with our patients."
"I could decide how we can give back to the community in the business; how we can help others financially and work with our patients."
Eager to be an independent practitioner, another example of following God's plan appeared when Miller learned Dr. Kirby was interested in selling his practice. Miller had been considering a practice in Noblesville but felt the practice in Mooresville was a better opportunity. It seemed the decision was made when Dr. Kirby accepted an offer from someone before Miller was able to make his own offer. However, the deal fell through, and Miller ended up taking over for Dr. Kirby in Mooresville.
Looking at living and working in Mooresville
At the time, Dr. Miller was married and had a small daughter, Shae. The young family settled into Mooresville. "We knew very little about the area at the time," Miller said. But very quickly this countryside-loving, small-town lover realized Mooresville was its own small town. "We would run into the same people at the local stores that were coming into the office. Seeing the same faces made it familiar and we fell right in and it was comfortable." Three years later son Jackson was added to the family.
When Dr. Kirby left, the staff consisted of himself and one other person. "Our No. 1 priority," said Miller, "was to increase staff, delegate, create systems and processes, and market to build the practice." He started slowly adding one or two people as needed. He increased the hours of service, added opticians and trained them for eyeglass fittings. "I was doing all the administrative work."
Miller said he learned to be patient with steady growth of the practice. "There was always plenty to do to keep us busy. Growing slowly was a blessing. It was the best way to get the practice set up and to learn how to run a business."
After getting established, Miller completely remodeled the entire office, adding more space, more staff, and more equipment. A solid business decision, the remodel improved operations and increased business. "We could see more patients per day because of efficiencies," Miller said.
Recognizing his limitations, Miller worked with a business consultant and then joined a network of independent optometrists called Vision Source. The purpose of the group, "to enrich lives by enabling independent optometrists to reach their full potential," struck a chord with Miller because he knew that through an industry association, he would have other optometrists to learn from, people who would discuss issues and ideas, and resources that would be vetted and available for his practice. "They keep us up-to-date," Miller said, "with the newest, biggest, and greatest in the industry. We wear so many hats; as the business owner, the doctor, the optician, and as the leader. And they give us the opportunity to learn and develop leadership skills." 
Miller understands the role of a business owner includes being a leader. Mooresville Family EyeCare currently employs eight people. He has mentored several employees who have gone on to become optometrists themselves. "It is rewarding to have an influence on younger people," Miller said. "I share the business model with them and mentor them in running an optometry business, too."
Other employees who were interested in the field were hired so they could make sure the career was right for them. Some went on to school to become optometrists, but others have learned to be opticians. To Miller, it all comes down to hiring the right people that fit in with the culture of the practice. "I would rather find the right person and train them rather than the wrong person who is already trained," Miller said. "Although it takes energy, time, and is a greater challenge, it is more important that we have the right, friendly, caring people here."
Together, they care for patients in the private practice he has nurtured for 20 years. He makes sure the office has high quality instruments and equipment like retinal imaging equipment. He offers high quality frames and lenses that include top of the line scratch resistance, progressive lenses. And they refer to the best in the area for services they do not provide such as laser or cataract surgery. "I want to guide patients to the best outcome possible," Miller said. "I want to do what's right for the patient," Miller said. "And it's much easier to do what is right for the patient when we have total control."
Looking forward
It had always been a goal to add another optometrist to the practice, one which was achieved in 2018 with the addition of Dr. Charity Robinson. "It is nice to have someone to share in the clinical decision-making, sharing the caseload, and to grow the practice," Miller said.
The industry, and Mooresville Family EyeCare, is changing and moving more into a model of preserving vision and the health of patient's eyes. "We want to be a leading provider in the healthcare of eyes for people of all ages in the area," Miller said. "In fact, we are very proud to see multi-generations in families in our practice. That is the whole concept of being family eye care service providers."
"We are very proud to see multi-generations in families in our practice. That is the whole concept of being family eye care service providers."
Included in the preservation of eye health is the care of so many people with diabetes. "Early detection of diabetic retinopathy is critical," Miller said. "We report to and work with family doctors of these patients."
After 20 years, Miller says he always expected it to be successful, so that has not been a surprise to him. What continues to thrill him is easy for him to describe. He says, "There is always that patient encounter when you made that person feel better by helping them. It might have been an emergency or discomfort and we were able to make them feel better. I love hearing that patients are satisfied or say we gave them 'the best pair of glasses they ever had.'"
Dr. Miller said, "I want a fulfilling practice," he says. "that is definitely part of longevity and why we are celebrating 20 years. It's not about being the biggest practice but being the best practice I can make it."